- Shows every Saturday night -
FAUXGRASS
"Bluegrass Music at its finest!"
Saturday, October 18
7:00 pm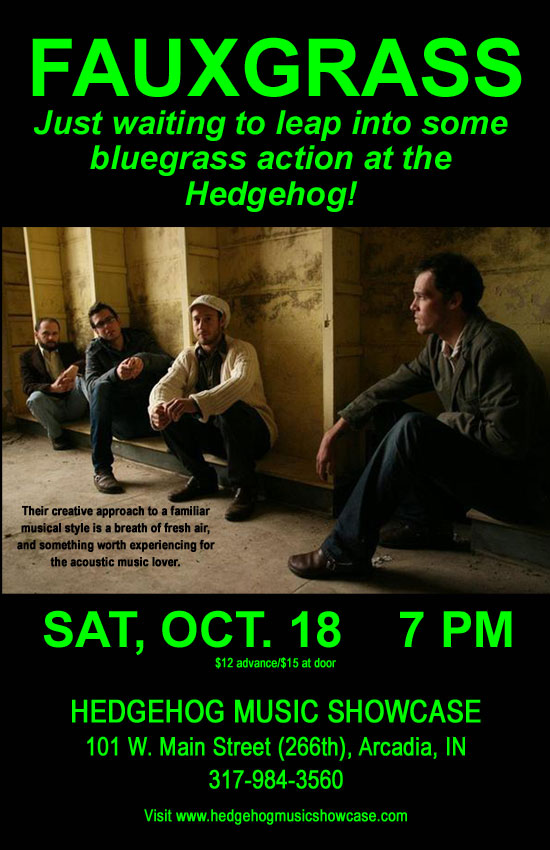 ThisThe Fauxgrass approach to music, original and traditional, has quickly landed them a place in the progressive bluegrass community since their 2011 inception. With a fresh, playful, and heart-felt approach to structure Fauxgrass performances flow between genres with unique instrumental communication. The current members consist of Adam Balcer (guitar, vocals), Tim McKay (bass, vocals), Joey Schultz (banjo, vocals) and Jason Wheeler (mandolin, vocals). They have toured extensively through the mid-west, Colorado, and northeast coast, as well as establishing themselves as a regular presence in the Michigan music scene. They are continuing to build momentum as their unique songwriting and fun performances find enthusiastic reception around the region. Their creative approach to a familiar musical style is a breath of fresh air, and something worth experiencing for the acoustic music lover. (poster attached)

-- Check them out here --
http://fauxgrassmusic.com/multi-media
http://www.youtube.com/watch?v=mBKcHdR1bj4
SPECIAL CHRISTMAS SHOW
Reservations are being taken now!
Saturday, December 6
7:00 pm
"A Tennessee Christmas"
This special Christmas show features pianist Floyd Cramer's grandson Jason Coleman and guitarist Chet Atkins' grand-neice Meagan Taylor. Each plays their respective instrument in the same style as their famous Country Music Hall of Fame granddad or great uncle.
The perfect Christmas show direct from Nashville, TN with young talent carrying the family musical tradition to the next level. We expect a sell-out show, so don't wait to reserve your seats today. We highly recommend this one!
The Christmas Show Video Sampler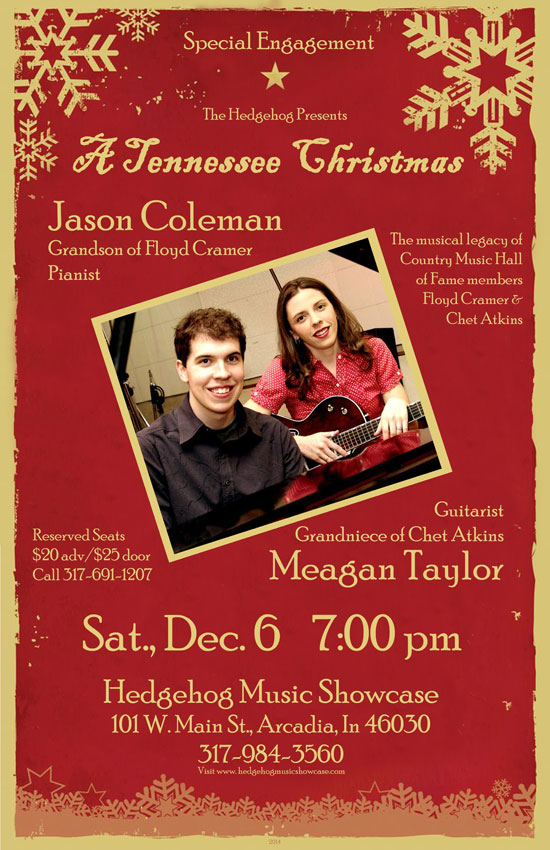 Thank you for your support.
Take a look at our pdf file link above for other show listings
Please visit us on Facebook for updates, also.