Great Talent for Our May & June Shows

GUITARIST RICHARD SMITH
Perhaps the Planet's Most Talented Guitarist
Friday, May 29
7:30 pm
Richard Smith is one of the most talented guitarist on the planet today. He plays many styles of music and does it as well as anyone else. If you especially like the music of Chet Atkins, Jerry Reed, and Merle Travis; you're not going to be disappointed at all. In addition to those styles, Richard can play classical, swing, country, and you name it. He is unbelievable. He has been at the Hedgehog several times in the past, and has always been a crowd favorite. Highly recommended! If interested in a guitar clinic with Richard, please contact us at the Hedgehog for more details.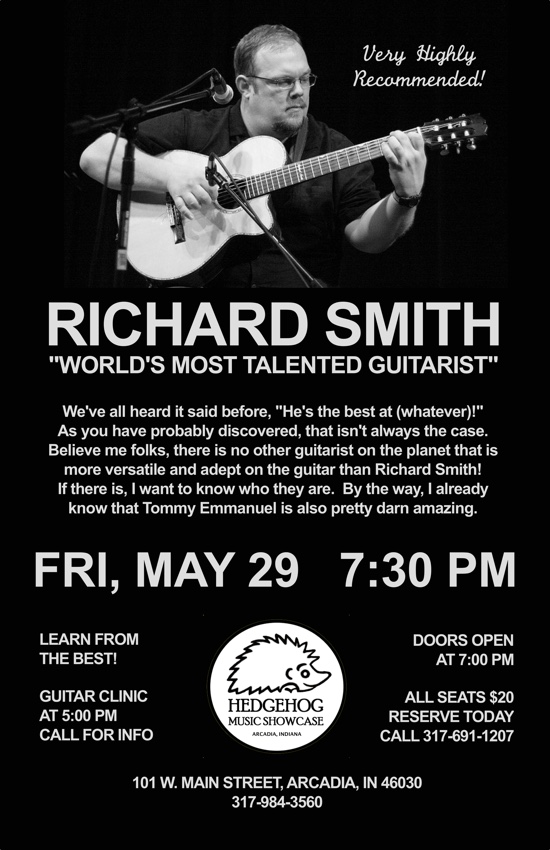 GUITARIST RICHARD GILEWITZ
World-renowned fingerstyle guitarist
Saturday, June 6
7:00 pm
Nationally acclaimed acoustic guitarist Richard Gilewitz defies easy categorization: one minute he'll be picking sophisticated Bach-like melodies, and the next minute he'll be getting down in a raw Delta blues song. His repertoire covers everything from the afore-mentioned classical and blues to folk, jazz and rock. He even stretches out and delves into near-avant-garde territory, recalling initial inspirations like John Fahey and Leo Kottke.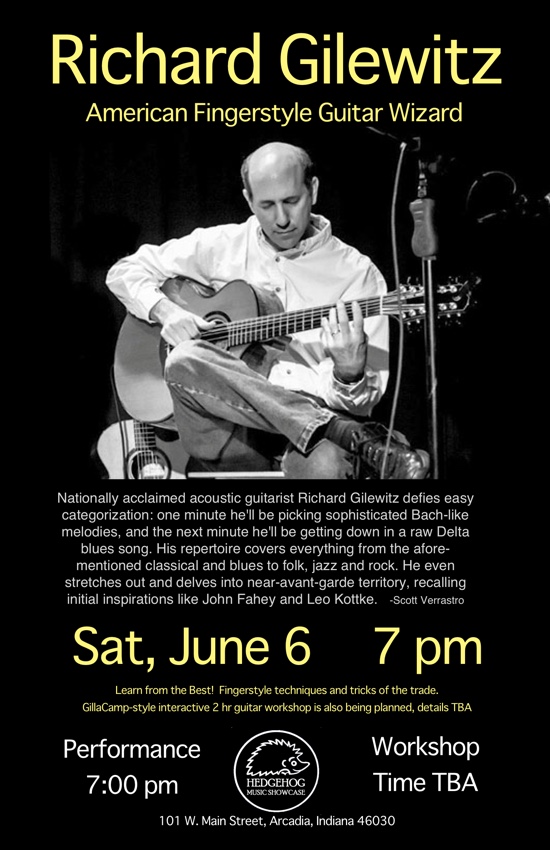 KEITH REA
Americana/Folk/Singer/Songwriter
Saturday, June 13
7:00 pm
Keith brings a wealth of experience to the stage as well as a variety of styles and genres. From love songs to train songs, Keith's lyrics conjure stories of people, places, and situations that feel both familiar and yet somehow fresh. His instrumental stylings cover the landscape from finger picked ballads to raucous twelve bar blues.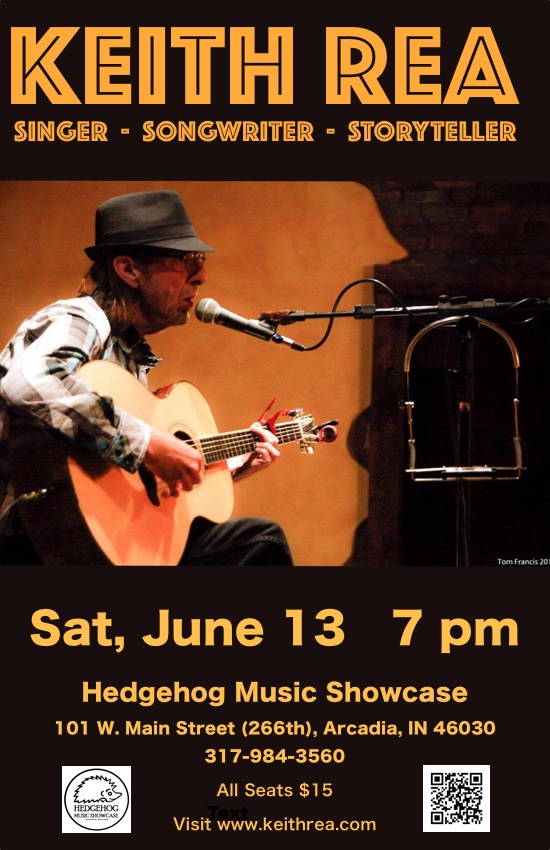 VICTOR AND PENNY
and the LOOSE CHANGE BAND
Friday, June 19
7:30 pm
An all-time Hedgehog favorite, you definitely do not want to miss this group. They perform music from the Prohibition Era that they call "Antique Pop". Highly entertaining in every way, and we highly recommend that you make reservations for this show due to an expected sell-out performance. You can't go wrong with this one!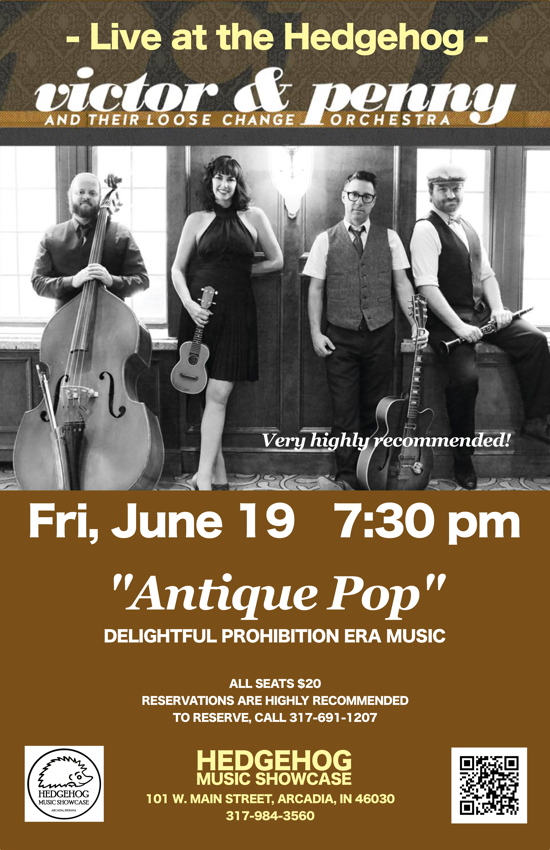 Master Guitarist Ray Cummins
Country - Pop - Gospel
Saturday, June 27
7:00 pm
Ray is one smooth fingerstyle guitarist. He was TV Hee-Haw's Kenny "Round Mound of Sound" Price's guitarist for many years. Ray has performed on Hee-Haw, the Grand Ole Opry, and with large orchestras. He is a favorite among guitarist at the annual Chet Atkins Appreciation Society Convention held in Nashville, TN. You're going to love his music!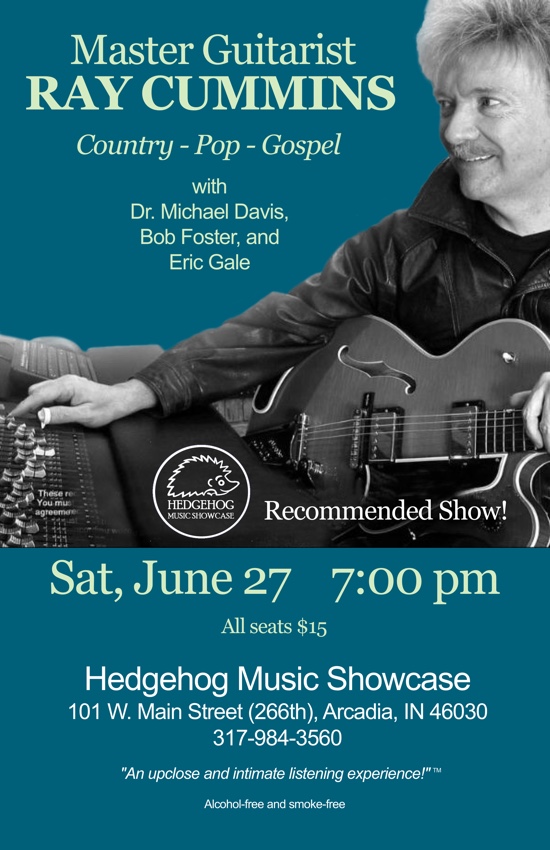 --- CONGRATULATIONS! ---
JIM BARNHILL
North American Country Music Association's
"Most Promising Male Vocalist Award"
Traditional Country Music
Congratulations Jim for winning this prestigious award presented today at the Country Tonite Theater in Pigeon Forge, Tennessee. Jim has been a regular at the Hedgehog for several years, and we are all very proud of your accomplishment.
Thank you for your support.
Take a look at our pdf file link above for other show listings
Please visit us on Facebook for updates, also.