- Farmer & Adele Christmas Show -
Sun., Dec. 11
3:00 pm
From Nashville, Tennessee! The Farmer & Adele were a big hit back last spring when they performed at the Hedgehog. Since then, they have performed at some pretty impressive venues, including the Eiteljorg Museum's WestFest in Indianapolis. Their music has that familiar swing style that we all grew up knowing. Their Christmas show is quite spectacular. Reservations are recommended for this special matinee that promises to put you in the Christmas spirit.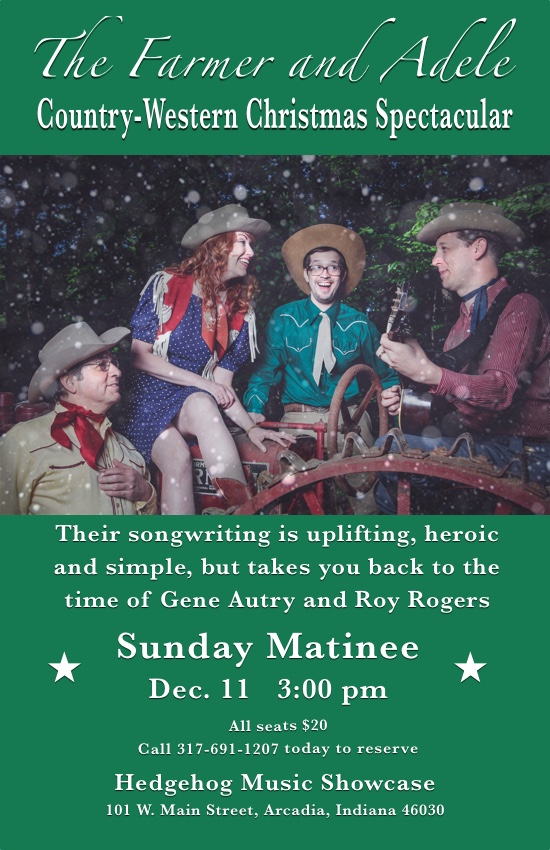 NEW CD AVAILABLE
Blackberry Jam the Folk Band
Taped live at the Hedgehog, now available for $15 each.
--- In Memorium ---
Loye Winders
When the Hedgehog opened 10 years ago, Russell and Loye Winders came the very first night. For over 9 years this loyal couple attended every single weekend performance that we scheduled afterwards. It made no difference if it was for listening to a local group of musicians or for a Grammy Award Winner. Up until a few months ago, they missed only about six or seven shows, usually due to illness or important family reasons. Loye passed away a couple of weeks ago after a long battle with lung cancer. We at the Hedgehog will miss her and Russell sitting at the front center table whenever they could. A special thanks goes out to our most loyal Hedgehog supporting couple and their continuous dedication to helping in our success. We're sure that Loye will be missed by many of our other patrons, as well.
Thank you for your support.
Take a look at our pdf file link above for other show listings
Please visit us on Facebook for updates, also.