This gypsy band is smoldering hot. Any local gypsy jazz musicians are welcome to join the band in a jam session/free learning session beginning at 1:30 pm. Concert performance begins at 2:30 pm.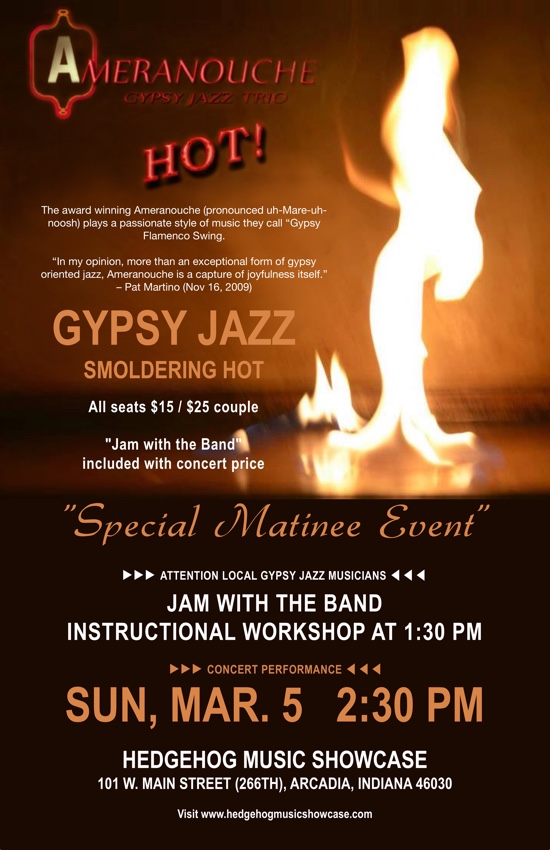 Stay tuned for our 2017 entertainment schedule coming soon!
Due to typically unpredictable winter weather, the Hedgehog will be closed several weekends in January and February. However, we are currently scheduling, and have already confirmed, some mighty talented shows for 2017. Of course, you never know when we might throw in a last minute musical gem, so stay tuned often on this website and on our Facebook page. Merry Christmas and a Happy New Year!
NEW CD AVAILABLE
Blackberry Jam the Folk Band
Taped live at the Hedgehog, now available for $15 each.
--- In Memorium ---
Loye Winders
When the Hedgehog opened 10 years ago, Russell and Loye Winders came the very first night. For over 9 years this loyal couple attended every single weekend performance that we scheduled afterwards. It made no difference if it was for listening to a local group of musicians or for a Grammy Award Winner. Up until a few months ago, they missed only about six or seven shows, usually due to illness or important family reasons. Loye passed away a couple of weeks ago after a long battle with lung cancer. We at the Hedgehog will miss her and Russell sitting at the front center table whenever they could. A special thanks goes out to our most loyal Hedgehog supporting couple and their continuous dedication to helping in our success. We're sure that Loye will be missed by many of our other patrons, as well.
Thank you for your support.
Take a look at our pdf file link above for other show listings
Please visit us on Facebook for updates, also.