Thanksgiving Weekend Show
Very entertaining and at an affordable price!
- Two Groups of Performers -
Janet Gilray and Dan Wethington
Jim Barnhill and Larry Grabb
Sat., Nov. 28
7:00 pm
Two bands sharing the evening. One will perform favorite old-time, bluegrass, & country; the other will take you down memory lane with hit tunes from the 1950-60's. ($10 suggested donation)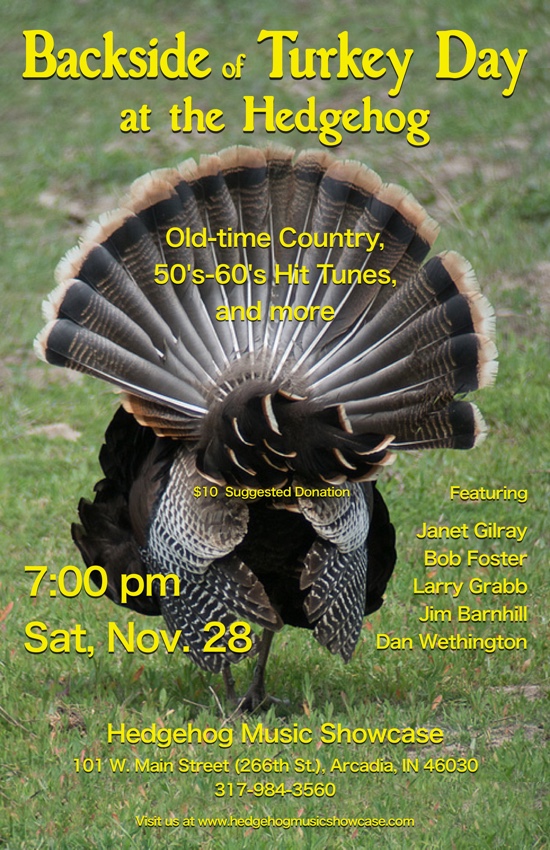 Guitarist Richard Smith coming Sunday, Dec. 13
NEW CD AVAILABLE
Blackberry Jam the Folk Band
Taped live at the Hedgehog, now available for $15 each.
--- CONGRATULATIONS! ---
JIM BARNHILL
North American Country Music Association's
"Most Promising Male Vocalist Award"
Traditional Country Music
Congratulations Jim for winning this prestigious award presented today at the Country Tonite Theater in Pigeon Forge, Tennessee. Jim has been a regular at the Hedgehog for several years, and we are all very proud of your accomplishment.
Thank you for your support.
Take a look at our pdf file link above for other show listings
Please visit us on Facebook for updates, also.