"50's and 60's Hit Tunes"

- Jim Barnhill & Larry Grabb -
Sat., May 28
7:00 pm
Barnhill and Grabb envision themselves as winners! So, they have put together a winning show for you to enjoy all the way to the finish line this coming Saturday night. Expect hits made famous by Elvis, Ricky Nelson, Hank Snow, the Kingston Trio, Carl Dobbins, Jr and many, many others. Free admission.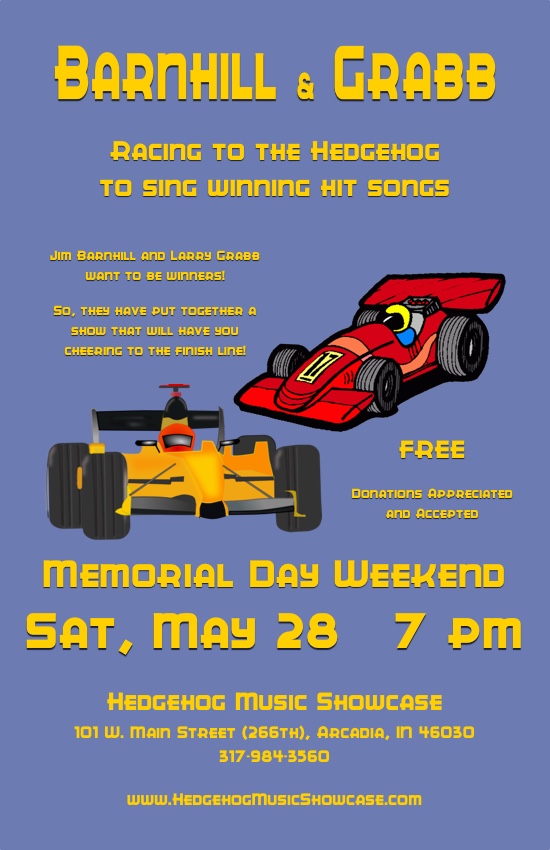 - RICHARD SMITH & JULIE ADAMS -
Fri., June 3
7:30 pm
Richard Smith and Julie Adams have performed at the Hedgehog several times to large sized audiences. This guitar and cello duo will leave you spellbound. We are pleased to have them back for another awesome performance. By the way, Richard is perhaps the most talented guitarist that we have heard. He plays many styles, and does it better than just about anyone else. Reservations are recommend, although not necessary.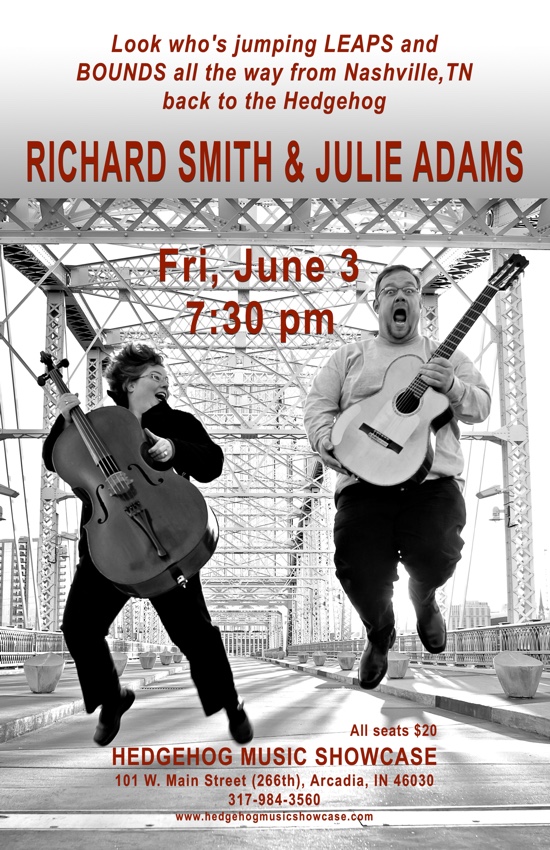 - GRANT FLICK -
Fri., JUNE 10
7:30 pm
Grant Flick is just 17 years old, but don't let that fool you. Once you hear Grant work his magic on the violin you'll instantly realize that he is extremely talented. Although he loves swing and jazz from the 1930's, regardless of the genre he chooses, he is unbelievably talented. He can play familiar tunes with that foot-tapping swing feel that few will ever do. Please join Grant and his band for a very pleasurable evening of music.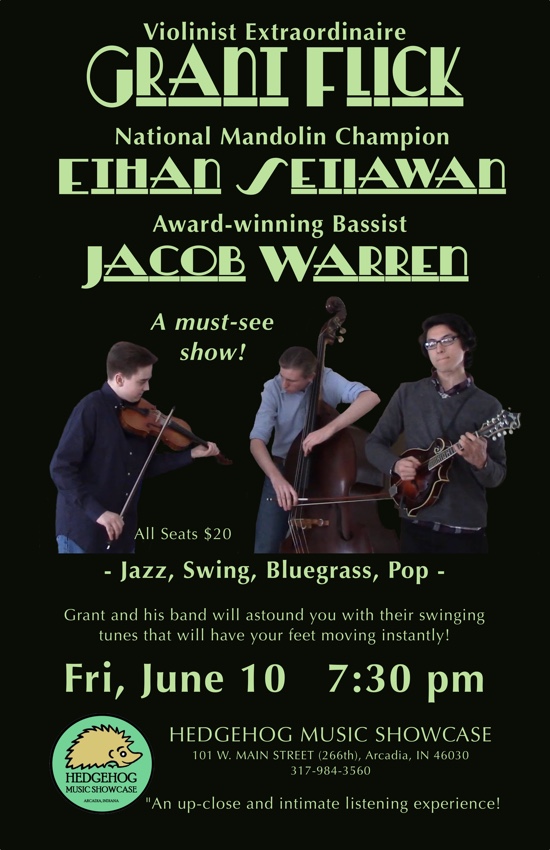 - GRANT PEEPLES -
Fri., June 17
7:30 pm
Grant Peeples is a songwriter, performer, and poet whose lyrics and rhythms probe life as real people live it in Florida and other places. T. D. Allman, VP of the Chengzhong Focus Foundation Award for Creative Excellence says this about Peeples, "No one tells uncomfortable truths with more wit, precision, humor and humility. He is a man of courage as well as truly gifted musician." ($15)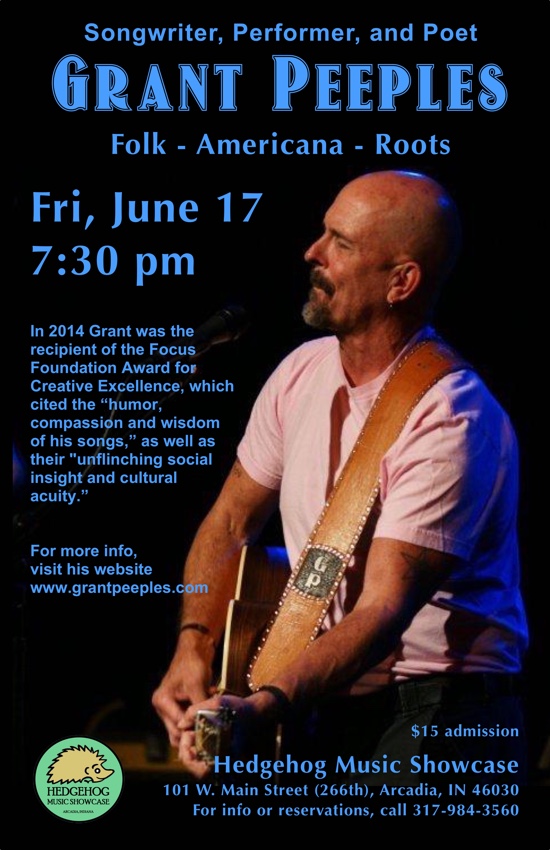 - Ma Crow & the Lady Slippers -
Sat., June 25
7:00 pm
This Cincinnati-based all-girl band is not to be missed. From ballads & old-time to contemporary, this beautiful acoustic music is filled with artful instrumentals and sweet mountain harmonies.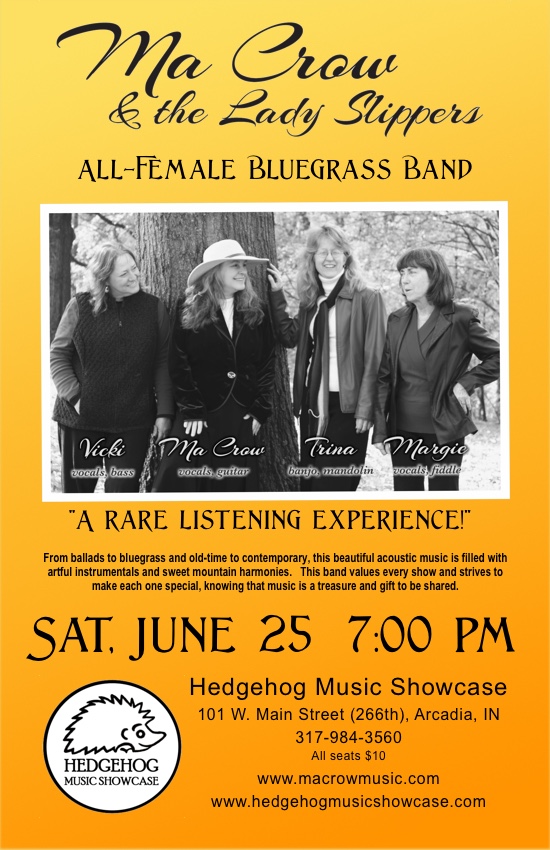 NEW CD AVAILABLE
Blackberry Jam the Folk Band
Taped live at the Hedgehog, now available for $15 each.
--- CONGRATULATIONS! ---
JIM BARNHILL
North American Country Music Association's
"Most Promising Male Vocalist Award"
Traditional Country Music
Congratulations Jim for winning this prestigious award presented today at the Country Tonite Theater in Pigeon Forge, Tennessee. Jim has been a regular at the Hedgehog for several years, and we are all very proud of your accomplishment.
Thank you for your support.
Take a look at our pdf file link above for other show listings
Please visit us on Facebook for updates, also.