A Hedgehog Exclusive Performance


JESSE RHODES & HARRY DAVIS
Perform Country, Pop, Jazz, & Gospel Favorites
Sat., August 29
7:00 pm
Two of Indiana's most talented guitarists will return to the Hedgehog for a wonderful evening of music. Both of these guitarists are highly respected among their peers. They have performed with big name stars, and have been featured performers in Nashville, TN at the annual Chet Atkins Appreciation Society. Few musicians have the ability to play guitar with the grace and smoothness as Jesse and Harry. Jesse is also a great vocalist. The price is right, too. Free. The suggested $10 donation is greatly appreciated.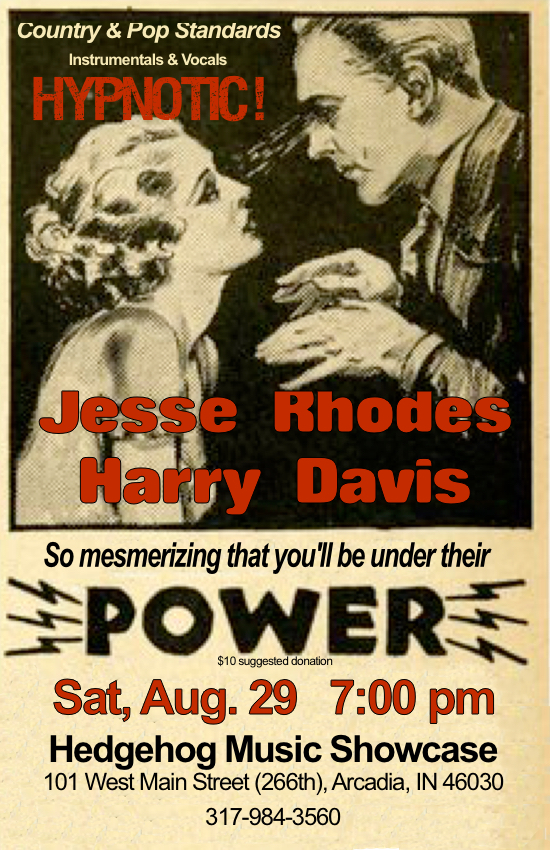 --- CONGRATULATIONS! ---
JIM BARNHILL
North American Country Music Association's
"Most Promising Male Vocalist Award"
Traditional Country Music
Congratulations Jim for winning this prestigious award presented today at the Country Tonite Theater in Pigeon Forge, Tennessee. Jim has been a regular at the Hedgehog for several years, and we are all very proud of your accomplishment.
Thank you for your support.
Take a look at our pdf file link above for other show listings
Please visit us on Facebook for updates, also.