- THE HARRY DAVIS BAND -
Tonight - Sat., April 23
7:00 pm
Late Moment Scheduled Show Since we had a super show on Wednesday with Loren and Mark, we initially decided to not have a show this Saturday, but at this late moment we changed our mind and have scheduled The Harry Davis Band to entertain all who wish to come by and listen. Harry has formed a new group, and they will be playing some familiar tunes and rehearsing some new material tonight. The best part is that it's free admission!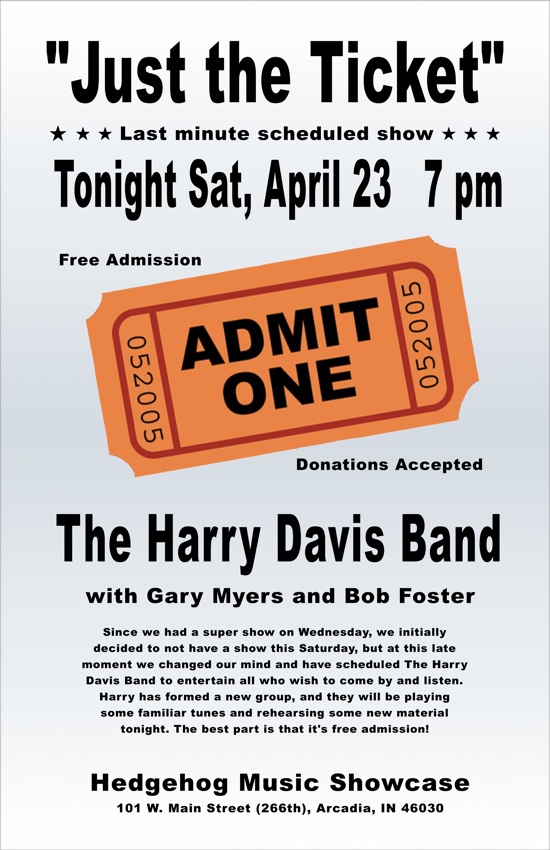 NEW CD AVAILABLE
Blackberry Jam the Folk Band
Taped live at the Hedgehog, now available for $15 each.
Here is an opportunity to be part of the band's CD Release Party. Special pricing on the CD, and a live concert for an evening of music!
--- CONGRATULATIONS! ---
JIM BARNHILL
North American Country Music Association's
"Most Promising Male Vocalist Award"
Traditional Country Music
Congratulations Jim for winning this prestigious award presented today at the Country Tonite Theater in Pigeon Forge, Tennessee. Jim has been a regular at the Hedgehog for several years, and we are all very proud of your accomplishment.
Thank you for your support.
Take a look at our pdf file link above for other show listings
Please visit us on Facebook for updates, also.