Great Talent for Our May Shows

BOMAR & RITTER
Americana Singer/Songwriter/Guitarists
Saturday, May 2
7:00 pm
Mary Bomar and Bob Ritter are two of the most talented singer/songwriter duos from Indiana. With the beautiful vocals and harmonies that are present, to the professional stage presence, you will be totally delighted with their heart-felt music.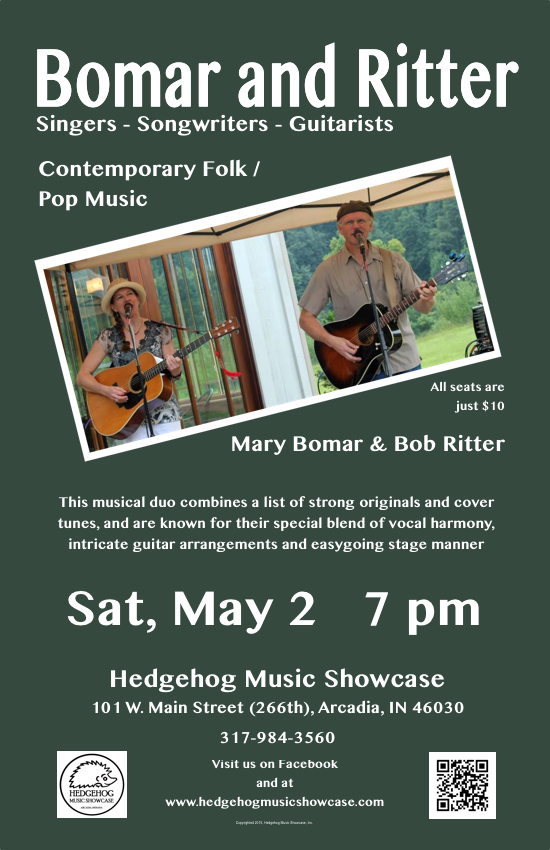 DON JULIN & BILLY STRINGS
Super Hot Mandolin and Guitar Duo
Friday, May 8
7:30 pm
Don Julin is the author of "Mandolin for Dummies" and Billy Strings is one of the most energetic guitarists I've had the pleasure of watching perform. Together, this will be a dynamite show that will leave your mouth hanging open with amazement. If you are interested in learning mandolin from one of the best before the show, contact the Hedgehog for more information. Again, you're going to be amazed!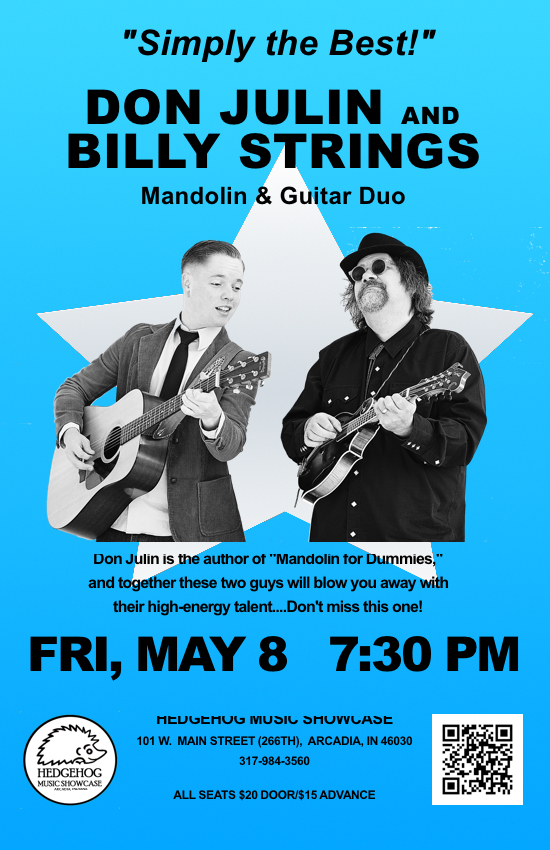 GUITARIST RICHARD SMITH
Perhaps the Planet's Most Talented Guitarist
Friday, May 29
7:30 pm
Richard Smith is one of the most talented guitarist on the planet today. He plays many styles of music and does it as well as anyone else. If you especially like the music of Chet Atkins, Jerry Reed, and Merle Travis; you're not going to be disappointed at all. In addition to those styles, Richard can play classical, swing, country, and you name it. He is unbelievable. He has been at the Hedgehog several times in the past, and has always been a crowd favorite. Highly recommended! If interested in a guitar clinic with Richard, please contact us at the Hedgehog for more details.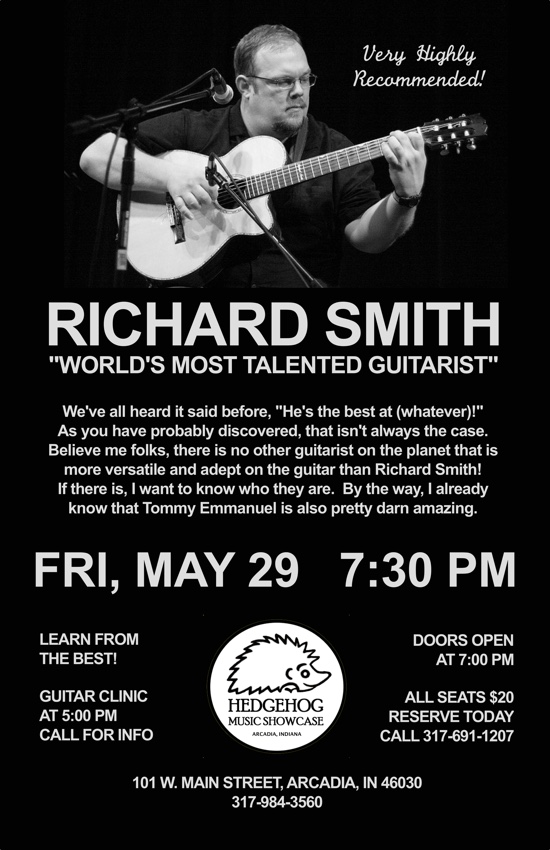 --- CONGRATULATIONS! ---
JIM BARNHILL
North American Country Music Association's
"Most Promising Male Vocalist Award"
Traditional Country Music
Congratulations Jim for winning this prestigious award presented today at the Country Tonite Theater in Pigeon Forge, Tennessee. Jim has been a regular at the Hedgehog for several years, and we are all very proud of your accomplishment.
Thank you for your support.
Take a look at our pdf file link above for other show listings
Please visit us on Facebook for updates, also.