A Hedgehog Exclusive Performance


BLEU DJANGO
Hot Club Style Gypsy Jazz & Swing
Friday, July 24
7:30 pm
Bleu Django is Indiana's premier gypsy swing band playing the music of Django Reinhardt and Stephane Grapelli. Imagine yourself in 1930's Paris with the charm of sidewalk cafes and quaint bistros. The tunes are both American jazz standards, beautiful French melodies, and originals from Django himself. Featured musicians are Daryl Jones (lead and la pompe rhythm guitar), Carolyn Dutton (violin), Bob Foster (la pompe rhythm guitar), and Hunt Wiley (upright bass). We guarantee that you won't be able to keep your feet still during this energetic performance. The price is right, too. Free. Donations are always appreciated.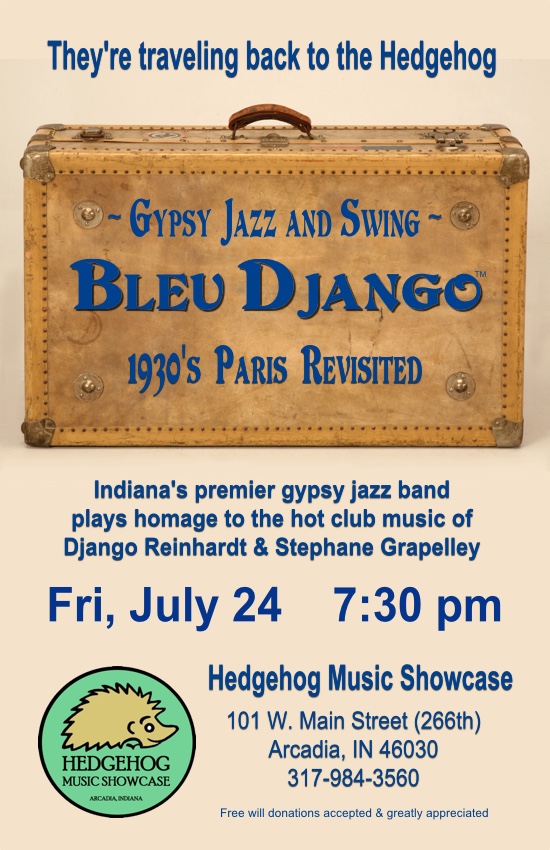 --- CONGRATULATIONS! ---
JIM BARNHILL
North American Country Music Association's
"Most Promising Male Vocalist Award"
Traditional Country Music
Congratulations Jim for winning this prestigious award presented today at the Country Tonite Theater in Pigeon Forge, Tennessee. Jim has been a regular at the Hedgehog for several years, and we are all very proud of your accomplishment.
Thank you for your support.
Take a look at our pdf file link above for other show listings
Please visit us on Facebook for updates, also.