- MIKE COMPTON & JOE NEWBERRY -
Sat., Feb. 20
7:00 pm
Grammy Award-winning mandolinist Mike Compton and musician extraordinaire Joe Newberry are a powerful combination. This is a rare Indiana performance that is sure to appeal to anyone who appreciates old-time, bluegrass, and traditional acoustic music at a level that few can achieve. Check them out online and on YouTube, and you'll agree. The perfect combination of our up-close and intimate venue with two of the most respected acoustic musicians in America today. Reservations are recommended. $15 advance/$20 at the door (if any remaining seats). Call 317-691-1207 today!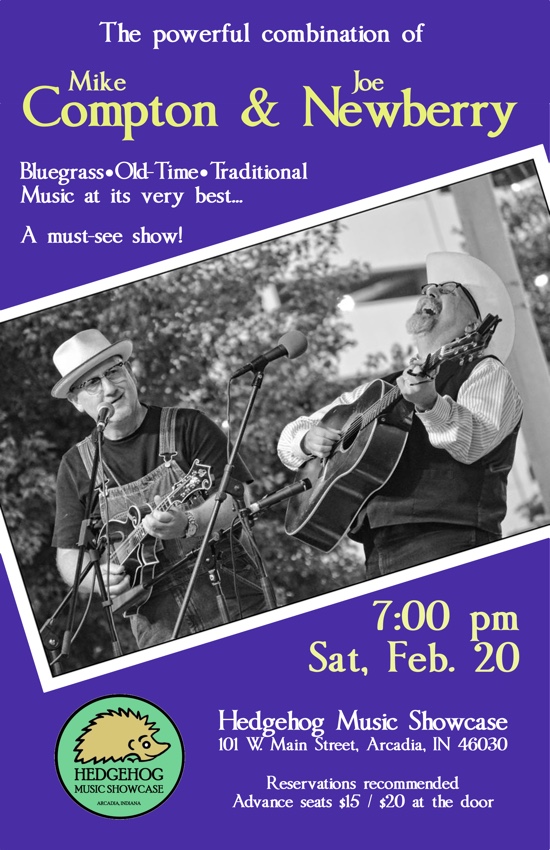 NEW CD AVAILABLE
Blackberry Jam the Folk Band
Taped live at the Hedgehog, now available for $15 each.
Here is an opportunity to be part of the band's CD Release Party. Special pricing on the CD, and a live concert for an evening of music!
--- CONGRATULATIONS! ---
JIM BARNHILL
North American Country Music Association's
"Most Promising Male Vocalist Award"
Traditional Country Music
Congratulations Jim for winning this prestigious award presented today at the Country Tonite Theater in Pigeon Forge, Tennessee. Jim has been a regular at the Hedgehog for several years, and we are all very proud of your accomplishment.
Thank you for your support.
Take a look at our pdf file link above for other show listings
Please visit us on Facebook for updates, also.